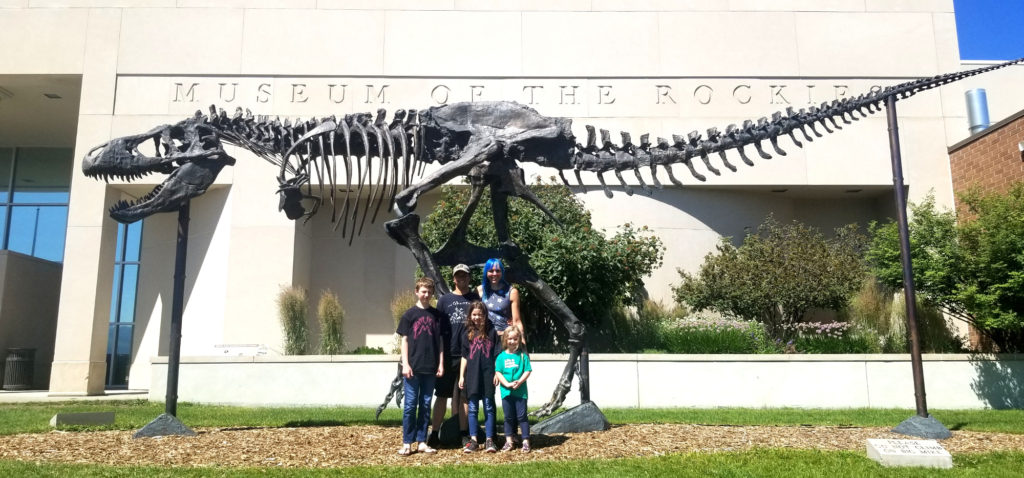 2019-07-21 Bozeman Day 2
We all got up pretty early, for our group, and headed over to the club house for breakfast. After breakfast We packed up the cabin and headed over to the hot springs. We stayed there until check out time.
Jessica loves dinosaurs! The Museum of the Rockies has a very large display of dinosaurs. We could not pass up the opportunity to visit the Museum.
We ate a late lunch at QDOBA Mexican Eats. It is very much like Chipotle.
We started out for home but stopped at the Montana Grizzly Encounter; a Grizzly Bear Rescue & Education Sanctuary in Bozeman, Montana. Where we listened to a bear education and safety lecture while watching a grizzly bear walk around the large enclosure.
The town of Gardiner Montana is located at the North Entrance to Yellowstone National Park. Just outside of Gardiner is the Gardiner Cemetery also know as Tinkers Hill. Follow the links to learn more about Tinkers Hill.
We encountered one bison jam, traffic jam caused people stopping in the road to watch bison. This one was un-preventable. The bison were slowly crossing the road. Some would go straight across, a few would stop on the road almost like they were trying to be a nuisance. A lot of them were grunting as they were moving across the road.

---
---
Mark