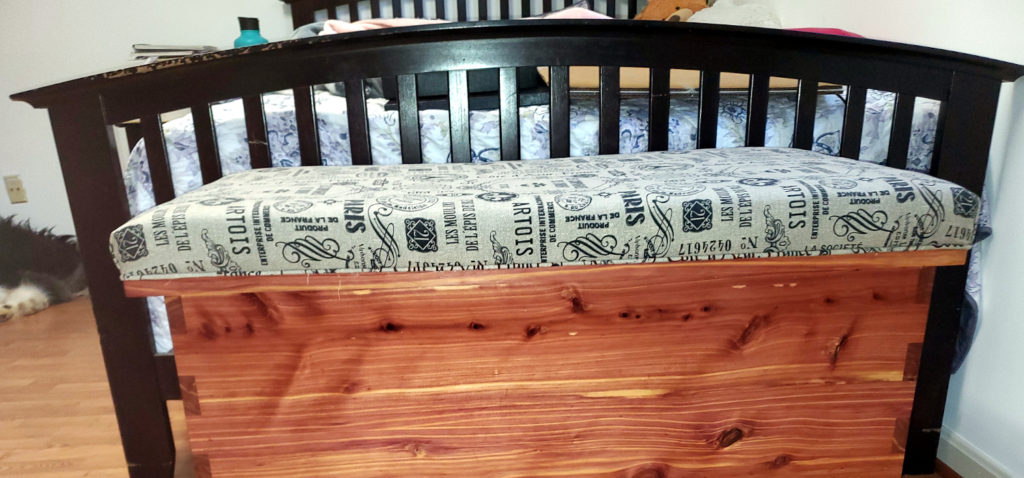 Cedar Blanket Chest
Several months ago my youngest daughter made it known to me that she wanted a blanket chest. I immediately thought to myself that would make a great Christmas gift. I knew I was going to use Eastern Red Cedar, I love the way it smells. But was not sure what size or how I was going to make it. An internet search was in order, I found several different blanket chests I liked. I decided on a simple design and she insisted it needed to have a cushion on top. The approximate dimensions I used for the chest are 18″ x 18″ x 36″, not including the feet and the cushion.
Next a trip to my local sawmill Maryland Select Hardwoods for some Eastern Red Cedar. In addition to the cedar I picked up some Red Oak and Poplar for other projects while I was there.
I wanted to use finger joints on the chest so I ended up building a Router Finger Joint Jig for this and future projects. I am happy with how it turned out and it will be used again.
The blanket chest has been 90% complete for a week or two, just needed to make a trip to my local fabric store to purchase the supplies for the cushion top. Finding the time to get my daughter and I there at the same time delayed finishing up the cushion top. I finished it today, a little more than a month late. The important part is she is very happy with it! I even made her two matching pillows with the extra material.